Power Plants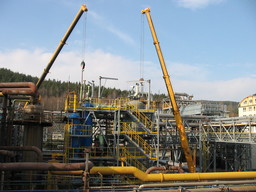 ZVU Engineering is the leading proprietor of engineering and manufacturing know-how of heat exchangers and heat exchange systems that forms the significant component of power plants. Our long-term knowledge, related to the engineering design of heat exchange, guarantees supply of economically effective equipment utilizing, by an optimal mode, the temperature differences of the heat transfer medium. All heat exchanger equipments are designed to the full detail by us based on our long-term knowledge collected with construction and manufacturing of such equipments and their operation. During manufacturing ZVU Engineering continuously inspect fabrication of equipment at the vendors according agreed quality plan that guarantees maximal reliability of our supplied equipment.
ZVU Engineering's significant references are namely:
Gas cooling unit, condensation VVKP Pressure Gasification Plant Vřesová (Czech Republic), with capacity of 135,000 Nm3/hour of raw gas, put in operation in October 2007.
Biogas treatment unit (siloxanes removal upstream of the cogeneration unit) for PVK a.s. Prague (Czech Republic), put in operation in December 2007.
Steam Generation Unit with capacity 700 kg/h for Eatmex, Habry, put in operation in August 2009.