Hydrogen Production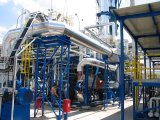 Hydrogen of the required technological parameters is produced by natural gas steam reforming.
The process plant consists of several process units for gradual processing of natural gas up to the final treatment of product to suit the following chemical technologies.
Natural gas first of all is heated and then passing absorption reactor, where the content of sulphur is reduces to the hydrogen sulfide minimum value to prevent subsequent poisoning of the catalyst.
The own natural gas reforming is carried out by the catalytic conventional process.
The gas with high hydrogen content is subjected to the conversion, where carbon oxide is reduced and hydrogen content is increased. The heat released by the chemical reaction is gradually utilized for heating of the feed stock and for production of steam.
The final purification of synthesis gas and achievement of the required hydrogen purity takes place in the PSA unit on the active coal and molecular sieves.
The entire process plant is designed as the module skid mounted equipment that is ready for on-site completion and within short time can be commissioned.
Capacity:
6,000 m3n/hour of hydrogen
5,000 m3n/hour of hydrogen
30,000 m3n/hour of hydrogen
26,000 m3n/hour of hydrogen
30,000 m3n/hour of hydrogen
Client:
Haldor Topsøe A/S, Denmark
User:
BorsodChem-MCHZ a.s., Ostrava, Czech Republic
Kuyibishev Refinery, Samara, Russia
Taneco, Nižněkamsk, Tatarstan, Russia
JSC Shchekinoazot, Tula, Russia
Antipinsky Refinery, Tyumen, Russia
Construction:
put in operation in June 2005
delivered in October 2006
delivered in August 2009
delivered in December 2011
delivered in June 2013
Scope of Work:
detail design, mechanical equipment supply, erection