Final Absorption Tower
Revamping of Final Absorption Tower in H2SO4 production based on Monsanto process provided by world-know company MECS Europe/Africa, Belgium.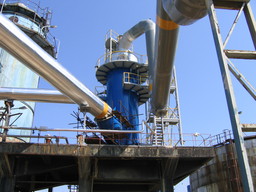 New Final Absorption Tower of the cylindrical type operates in countercurrent mode, with process gas inlet in the bottom part of the vertical vessel shell.
For proper and uniform distribution of sulphur acid on the ceramic filling the Final Absorption Tower is equipped with unique UniFlo® distribution system of H2SO4 distribution. The system enables high area wetting of the filling that aims to increase of absorption SO3 efficiency, elimination of local hot spots and minimization of acid mist entraining. UniFlo® distribution system is made from corrosion resistant material ZeCor®-Z that ensure long term operation period even in very strong corrosion medium.
To ensure maximum reduction of the SO3 emissions and H2SO4 mist in outgoing process gas the top part of the Final Absorption Tower is provided with up-to-date mist eliminator type Brink.
For reliable supporting of the internal ceramic filling, while simultaneously the maximal free area for flow of the process gas is ensured, the Final Absorption Tower is equipped with supporting grate type ZeCor®. The design of this grate provides 80% of the free area for flow of the process gas. Currently this type of grate represents the most effective way of filling support. The long term operation life period is achieved by used construction material.
Capacity: 500 t monohydrate/day
End-user: Spolana a.s., Neratovice
Implementation: 3/2006 – 8/2007; put in operation in August 2007
Scope of Work: basic design, design for building approval, detail design, equipment delivery, erection and installation, commissioning, warranty operation.