Biogas Treatment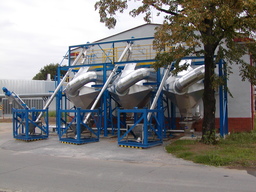 The Biogas Treatment process unit is applied for entrapping of organic silicon compounds – siloxanes that may cause serious process complication with the gas motor operation.
In the unit the raw biogas received directly from the fermentation tank is treated. The biogas enters the unit in temperature 55°C saturated 100% by water vapors. The biogas treatment is principally based on absorption of silicones compounds in the charcoal when biogas passes through absorption bed.
Prior entering the absorption bed the biogas is cooled down from 55°C to 5 – 10°C to reduce water vapor saturation value. In the 1st cooling stage the biogas is cooled down to 25°C indirectly by treated waste water, in the 2nd cooling stage the biogas is cooled down to 5 – 10°C in tube exchanger by chilled water. The chilled water is get from the compressor chilling aggregate.
Due to the lowered down biogas temperature the value of water vapor saturation is reduced in the biogas and originated condensate is drained into the local sewage. Subsequently the biogas pressure is increased by the gas-tight fan to exceed biogas pipeline resistances and to maintain required pressure on the inlet of the gas-motors of the waste water treatment power unit. The pressure is increased by means of fans from 5 000 Pa to 13 000 Pa.
To reduce the relative humidity of the biogas upstream of the absorbers on about 20% the biogas is heated in the heat exchanger, situated behind the fan, up to temperature about 25 – 35°C, while the cooling water from the gas-motors is used.
The silicones compounds adsorption takes place on the active carbons. The siloxanes contain in the treated biogas leaving process unit will not exceed 1 mg/m3. The absorbers are furnished with specially designed discharge manhole to enable easy and reliable removal of the spent absorption filling.
There are installed three absorbers, always two absorbers operate in series, and 3rd absorber is ready for absorption filling replacement. Any absorber can operate in series.
Capacity: 4 000 Nm3/h raw biogas
Client: Pražské vodovody a kanalizace a.s., Prague, Czech Republic
User: Central Waste Water Treatment Plant, Prague, Czech Republic
Date: 12/2006 – 11/2007, put in operation in March 2008
Scope of work: basic design, detail design, equipment supply, engineering supervision, commissioning.