Autoclaves and Vulcanizers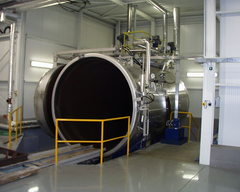 ZVU Engineering autoclaves and vulcanizers are horizontal cylindrical vessels closed on one end or on both ends with the quick closer equipped with closing hydraulic system and special closing device. Standard operating pressure is from 3 to 10 bar (g), standard operating temperature is up 150 °C.
The advantage of ZVU Engineering design just consists in the use of automatically controlled quick-closing device ensuring reliable closing of equipment during process and also quick and safe access into the space of autoclave after working period has been terminated.
The standard equipment of the autoclaves consists in:
Hydraulically controlled tilting bridge for the entry of charging car.
Hydraulically controlled closing device of autoclave quick closer.
Quick closer control hydraulic unit.
Electrical or steam heating.
Control unit operated by software designed on the basis of customer's requirements.
Safety locking device and equipment serving for the operation monitoring.Autoklávy jsou standardně vybaveny:
Type of heating
Type of pressurizing inner space
Autoclave with direct steam heating
Pressurizing is carried out directly by steam, serving for heating. The pressure is determined by requested process temperature.
Autoclave with indirect heating – jacketed shell
Pressurizing is carried out with the use of air, gaseous nitrogen or their mixture. The pressure is determined by process requirements.
Autoclave fitted with internal electrical heating
Subject to autoclave handling size and dimensions the autoclaves are delivered in a completely assembled execution and fitted on the function frame or in the form of parts suitable for complete assembly and installation on user's site
Download